Gold & Silver Prices
This chart shows the gold and silver bid prices around 3pm London time, a period of high liquidity as it corresponds with the setting of the afternoon LBMA benchmark gold price and the morning of Comex futures trading.
Dollar Price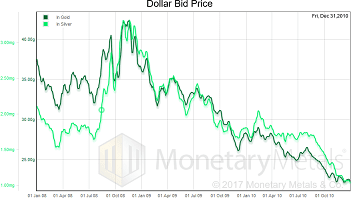 Monetary Metals® argues that gold is the objective measure of value, against which everything including dollars, must be measured – it is dollar that is rising and falling in value against gold (and silver). This chart shows the price of a US dollar in milligrams of gold and grams of silver.
Spot Price Bid-Offer Spread
This chart shows difference between the bid and offer price for gold and the bid and offer price for silver. This difference, or spread, can be an indicator of liquidity or stress in the market. When the market is highly liquid, bid-offer spreads may be tight (or low) but during periods of stress or uncertainty, the bid-offer spread may widen (or rise).